Welcome to NYC! There's plenty of exploring to do in this iconic city. Here's my top picks for things to do on a short 3-5 day trip… and the best part? Most of them are completely free!
*The Empire State Building, 9/11 Museum and Statue of Liberty Monument Park & Ellis Island were purchased as a package with the New York CityPASS - you can choose up to three attractions at a discounted rate.
Roosevelt Tram & Island | free
Ride the Roosevelt Tram to Roosevelt Island free of charge with a metro card and explore the Four Freedoms Park.
Departs from 59th Street and Second Avenue, Manhattan.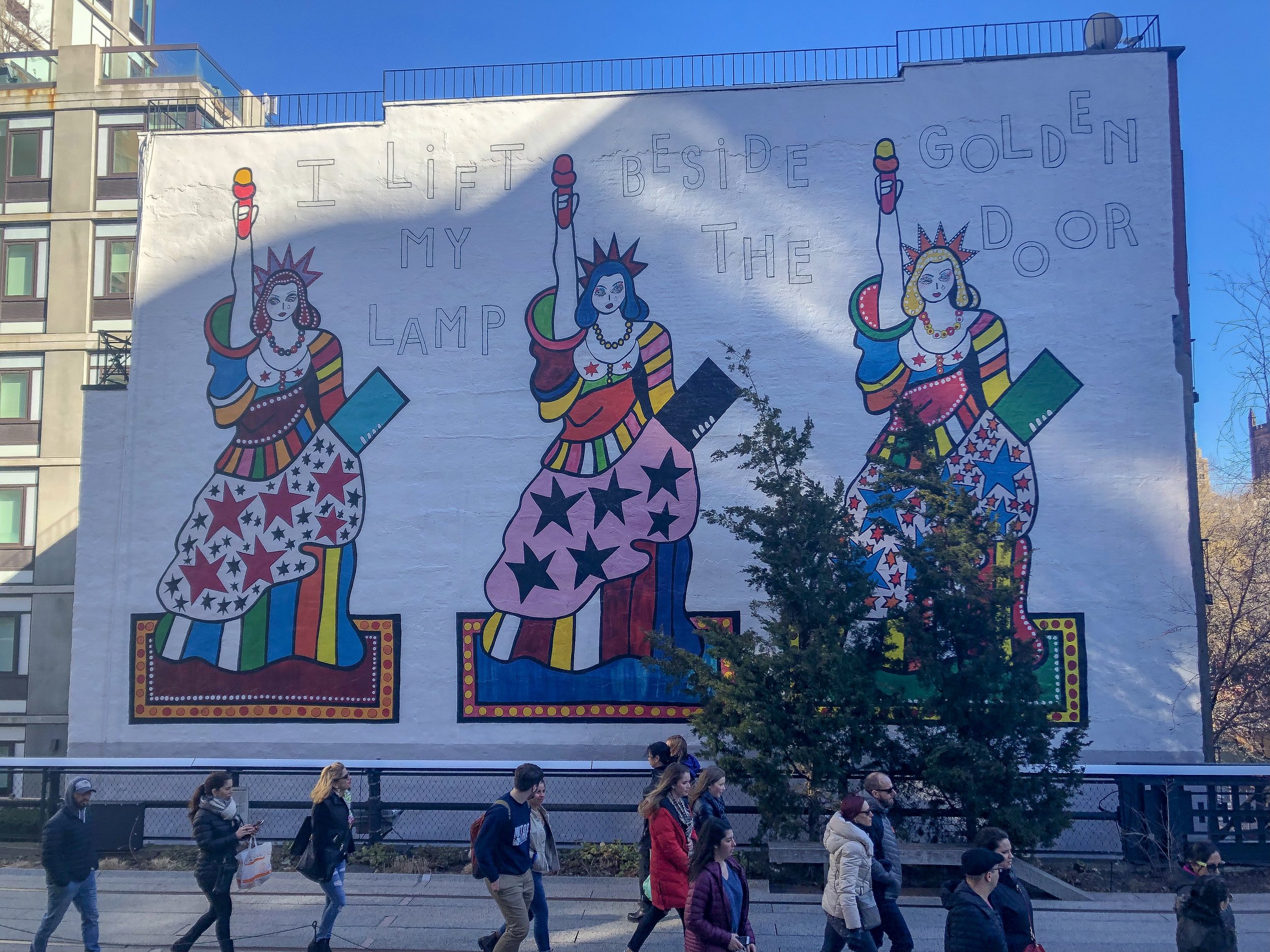 Walk the High Line | free
New York's transformed old-rail elevated walkway with plenty of great city views and art installations along the way.
Hudson Yards Stair Sculpture | free
Book your tickets in advance via Hudson Yard's official website. It is possible to grab tickets on the day through the website starting from 8:00am, however, waiting times can be over 2 hours with no guarantee of tickets - still a great sculpture to check out whether you have a ticket or not!
*Tickets are currently free of charge.
Pay your respects at the 9/11 Memorial Museum.
Make sure you leave plenty of time for a trip to this museum. Although you can visit in under 2 hours, the museum contains a lot of information and you'll want to take your time looking at everything. I spent at least 3.5 - 4 hours here so I recommend setting aside half a day. Also, the earlier you arrive the better as it can get very crowded!
*Free admission on Tuesday after 5pm.
Walk the famous Wall Street in the Financial District and be sure to check out highlights including Trinity Cathedral, the Charging Bull, Fierceless Girl, New York's Stock Exchange and City Hall & City Hall Park.
Take Staten Island Ferry for views of the Statue of Liberty | free
Free commuter ferry which runs 24 hours from South Terminal Lower Manhattan to St George Terminal Staten Island. Take advantage of the opportunity to see New York's city skyline and the Statue of Liberty at day or night.
Visit MoMa | free on Friday's 4pm-8pm
Worth the trip! Museum of Modern Art includes Picasso, Van Gogh and Rene Magritte. There's also the Rockefeller Ice Rink located a short walk from this art gallery just in case you fancy a skate!
Image to the left: The Lovers II, 1928, Rene Magritte.
*Free entry to MoMa every Friday 4pm - 8pm otherwise approximately $28.
230 Fifth Rooftop Bar | free
Rooftop bar and nightclub with views of the Empire State Building and igloo pods. Free entry but no bags. Cloakroom available.
One of the most talked about places in New York! The colours, the screens, the close-by Madison Square Garden… a must visit day or night!
More of the financial district | free
In addition to Wall Street and the 9/11 Memorial, check out the World Trade Centre and the Oculus!
Grand Central Terminal & Whisper Wall | free
Grand Central Terminal at 42nd Street and Park Avenue Midtown Manhattan will be sure to take you to some movie scene memories! Don't forget to check out the whisper wall too.
Statue of Liberty National Monument Park & Ellis Island package tour | $18.50
Although you can see the Statue of Liberty from Lower Manhattan or via the Staten Island Ferry, nothing quite compares to being on the island itself and getting up close and personal with the history of Miss Liberty.
The tour to Liberty Park also includes a trip to Ellis Island, a historical New York immigration inspection station.
Both locations offer audio tours included with your ticket which are well worth the listen!
Brooklyn Heights, Brooklyn Promenade & Brooklyn Bridge | free
Catch the subway to Brooklyn, walk through the famous Brooklyn Heights to Brooklyn Promenade and complete with a walk over Brooklyn Bridge - the perfect half-day adventure!
Beautiful park in Lower Manhattan with arch landmark and views of the Empire State Building.
Empire State Building | starts at $36
Open ticket so no set time - I recommend heading up just before sunset to watch the city change from day to night.
Incredible views and if you plan to do this at the end of your trip, you'll be able to spot some of the places you have visited!
A trip to New York wouldn't be complete without a visit to Central Park.
Hire a bike for the best way to explore!
You'll come across Chelsea Market whilst on the High Line route - indoor food market and shopping centre.